Haremon
Disclaimer: Haremon contains sexual content, but that is not the main focus of the game. Don't go into this expecting "a porn game". Still, obviously you MUST be 18 or older to play.

NOTE: Since I'm unable to keep track of feedback across several different websites, this page doesn't have a comment section. If you have a question, check the FAQ here. If your question isn't listed, or if you have a bug to report, join our Discord! I'm far more active there.

Haremon is an anime-style RPG about building a team of monstergirls, training their skills in battle, uncovering their secrets, and forming relationships with them along the way. The game has a focus on compelling story, humorous dialogue, and unique gameplay.
The current demo you'll find here on itch contains nearly half of the game's total story: a prologue, and two full story chapters. The Patreon version currently contains an additional one-and-a-half chapters, with more on the way!
Support the game on Patreon to support development and access chapter 3 and 4 right now, with more coming soon! You can also get the mp3 soundtrack, high-resolution CG archive, full debug access, in-game shoutouts, and more!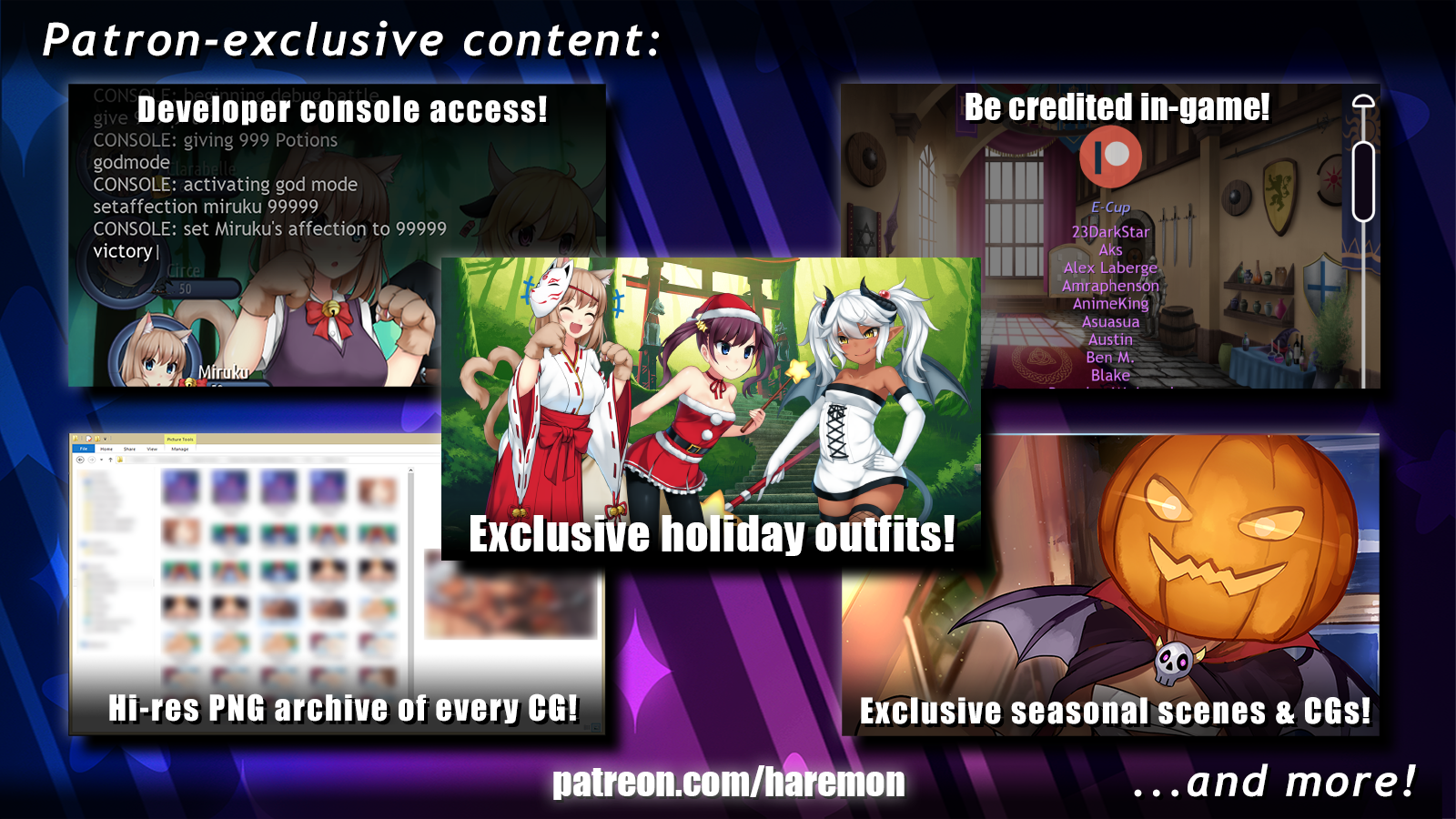 Follow @haremondev for updates and occasional shitposts!
Current Features (Alpha 0.34):
11 unique monstergirls, plus 6 human NPCs (+2 monstergirls in the Patreon version!)
More than 30 CG images to unlock (over 50 in the Patreon version!)
Hundreds of VN-style scenes
7 dungeons to explore (+3 in the Patreon version!)
Two story chapters, each with several hours of content and an engaging plot (+1.5 chapters in the Patreon version!)
Note: while the game can be played with a gamepad, keyboard, and/or mouse, I recommend a gamepad for the optimal experience!
Download
Download
Haremon 0.34.1.2 DEMO.zip
890 MB